We had an eventful evening. I had signed up to go to the temple but the day before I called the guy in our ward telling him I don't know was I was thinking signing up when we are moving in a week and I have a million things to do and I wouln't be able to make it. Well it was a blessing because there were tornadoes all over and I probably would have driven right in one.
Yesterday around 5pm I was making dinner and brad was playing Tigers Woods on the Wii. I got a phone call from a friend that thought I was going to the temple and calling to tell me to get home cause tornadoes are all around there -thank goodness that wasn't the case. Since we don't have cable we turned on the radio and a tornado was in Oralado, OK which is just about 15 mins west of us. We jetted out of our apartment, left our food on the stove, grabbed bullet and my box that i keep all our of important info and drove to my work on campus. It has a basement and is one of the "safe places" for tornadoes.
While we were there watching TV in the conference room there was this tornado...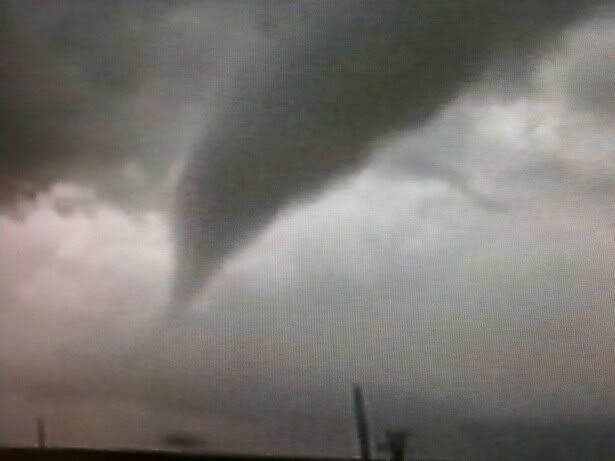 They were showing this tornado on tv. It was happening just miles away from our apartment down the highway. Luckily it stayed in fields and didn't hurt anyone. Later a tornado came through a part of Stillwater but I hear it only caused minor damage and mainly to trees.
We are very blessed to not have been hit. I do have to say I'm not so sad we are leaving after that experience! ;)
This video was taken by someone on campus. We were under all of that nasty sky!!
Ignore our messy house with boxes and junk everywhere - we are packing up :). We sold our entertainment center and bigger tv... i think we need to get us a bigger tv so we can see the screen! It's kind of hard to read anything on the games.
I got brad Tiger Woods PGA Golf, framed his tassel and diploma, and a new chuck it toy and balls for him to play with bullet. I am so lucky to be married to brad - I couldn't ask for anything else. Love you sweetie!